Veranstaltungen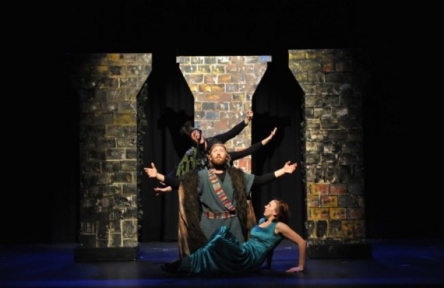 Foto: www.adg-europe.com
MacBeth by William Shakespeare
| | |
| --- | --- |
| Termin: | Donnerstag, 14.02.2019 |
| Uhrzeit: | 11:00 Uhr |
| Raum: | Festsaal |
GASTSPIEL IN ENGLISCHER SPRACHE
Directed by Paul Stebbings
Musical Director Paul Flush
Producer Grantly Marshall
The American Drama Group Europe presents TNT theatre Britain in
Macbeth
by William Shakespeare
TNT Theatre has developed an international reputation for presenting dynamic, exciting and direct productions of Shakespeare's major works. Live music, powerful choreography and a simple performance style allow a modern audience to experience Shakespeare's great love story as an Elizabethan audience might have done at a London theatre some four hundred years ago.

All too often, Shakespeare suffers from directors and even designers imposing an interpretation on the original that stifles its essence. TNT works carefully to bring out the true richness and depth of Shakespeare. This approach has been much appreciated by a wide audience who is often surprised at how accessible and relevant Shakespeare's plays become when they are performed in the manner Shakespeare might have intended. The plays were written to be performed with limited scenery which calls upon the imagination of the audience, live music, small casts, energetic physical performances and a sensitivity to poetry. All of these elements are present in a TNT Shakespeare production. Less is more or, to quote HAMLET, "the play is the thing."
---
Karten zum Preis von 11 € / Person gibt es direkt beim Veranstalter THE AMERICAN DRAMA GROUP EUROPE unter Tel. 089/343803 oder per E-Mail unter gma@adg-europe.com.
Veranstalter:
The American Drama Group Europe
Weitere Informationen unter
www.adg-europe.com
Zurück zur Liste